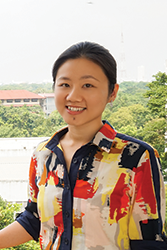 Dr. Radeekorn Akkarawongsapat
Virology
Education:
2008: Ph.D. (Cellular and Molecular Biology), University of Wisconsin-Madison, Wisconsin, USA
2001: B.S. (Bacteriology and Genetics), University of Wisconsin-Madison, Wisconsin, USA
1997: Thai Government Scholarship Ministry of Science and Technology
Research interests:
Her research group is interested in the area of control and prevention of major viral infections and diseases in Thailand. She aims to search for antiviral alternatives that are derived from Thai medicinal plants available in nature. In collaboration with the Department of Chemistry, Faculty of Science, Mahidol University, and Biodiversity and Indigenous Culture Centre, Bansomdejchaopraya Rajabhat University, a variety of plant extracts are tested for antiviral activities against HIV-1 and influenza viruses. Antiviral assays are developed to examine the inhibition step in the viral replication cycle. Apart from that, she joins the NSTDA dengue vaccine development program which targets to develop an effective tetravalent live attenuated dengue vaccine. Specifically, she is in charge of the vaccine pre-master seed preparation, a step prior to the GMP production level.